What am I obsessed with now? Cambridge Satchel Co. bags!! It's been a while since I've posted an "Obsessed" entry, probably because I rarely do get obsessed with any one product.
(go to the bottom for links)
I know these bags have been on everyone's radar for a while now, but I've only just discovered them in the past month and have fallen madly in love! These 100% leather bags are made in England and shipped to wherever you are! Not only are they stylish and convenient, they come in a rainbow of colours offered in 4 different sizes and you can also get them personalized with lettered embossing.
Have I also mentioned that these bags are extremely affordable (in comparison to the likes of high fashion brands) costing between CAD$120-180??? That's amazing! Sounds like the perfect Holiday gift for friends, family or...yourself of course.
Cambridge Satchel Co. is a mother-daughter company that daughter Julie Deane and mother Freda Thomas started in 2008. What started as a simple home business from selling a couple bags per week to friends (the bags were originally aimed towards children and students) and neighbours went on to becoming an international multi-million dollar company- and in just 3 years! It just proves that with a little hard work and luck, anything can happen.
What I love about these bags are their ability to be so chic and stylish, adding to any fashionistas wardrobe OR can also be used for more formal/serious occasions such as work or school. I also love the sizes they come in, from 11"-15". The smaller bags perfect for running quick errands and outings, the medium sized bags for an everyday use whenever and wherever, and the larger bags for travel, school/work or bulkier technology (laptops, iPads, etc).
The lettered embossing is a great and fantastic way to make these bag personal and unique. They come in capital letters and can either be black, 'blind', silver or gold. But! Just as a word of caution...the bag buckles are silver, which is important to take note of as some people may not realize this before choosing the gold embossing. You will be charged per letter, which you will see when you check out your shopping cart, although "full stop/periods" come for free ;). haha!
Personally I love bags that have adjustable long shoulder straps. I don't know what it is. I just really like that look. Maybe it's something about the way they hang by your waist or hips that I find flattering. And the way I feel loose, long shoulder straps make your arms look slimmer as they don't cut into any possible arm chub. They're also more comfortable and easy to carry and can either hang on one side or used as a crossbody bag.
I also really like how they resemble the much sought after Mulberry bags, and while I will definitely want to purchase a few Mulberry bags in my lifetime, it's nice to know that there's an equally fashionable and affordable alternative for the everyday user. And as I've already mentioned...there are SO many colours!!! Including even a shiny silver and shiny gold version that was the result of a collaboration with Comme des Garcons last year (photographed below).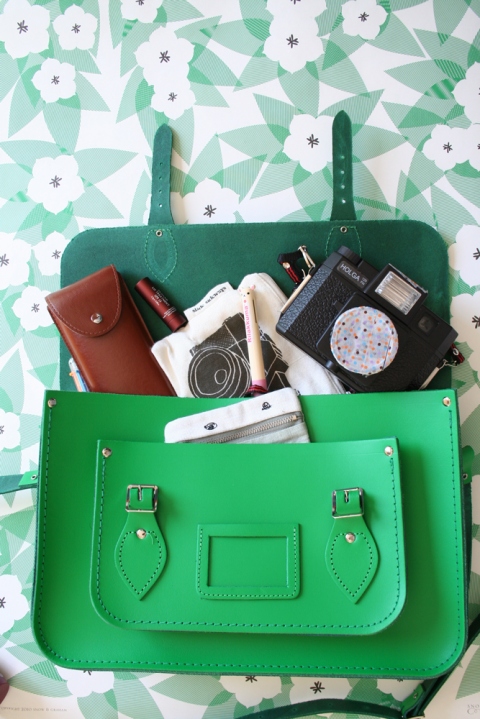 I have NOT ordered one of these bags yet, but I've seen them at the store and they are just gorgeous. I want every single colour. So of course, I've read up on as many reviews online as I've been able to find. The satchels definitely sound promising. Quick delivery (with a couple exceptions and snags here and there), vibrant colours and they're spacious! You can fit just about your entire life in these bags, which is great for me because I usually carry a lot of stuff around. So I was pleasantly surprised to read this, as I do have a large classic Chanel flap bag (which are relatively the same shape as these bags as you know) but I just can't fit THAT much stuff in it!
Popular amongst celebrities and fashionistas alike, the Cambridge Satchel has really caught on as the latest fashion "it" bag. Moreso is there "fluorescent" satchel, dubbed "The Fluoro" that comes in four neon shades: pink, yellow, green and orange. And as seen at the top of the blog entry, their "Batchel" collection bags can be worn as backpacks and pictured below is a variation on the multi-coloured satchels they sell.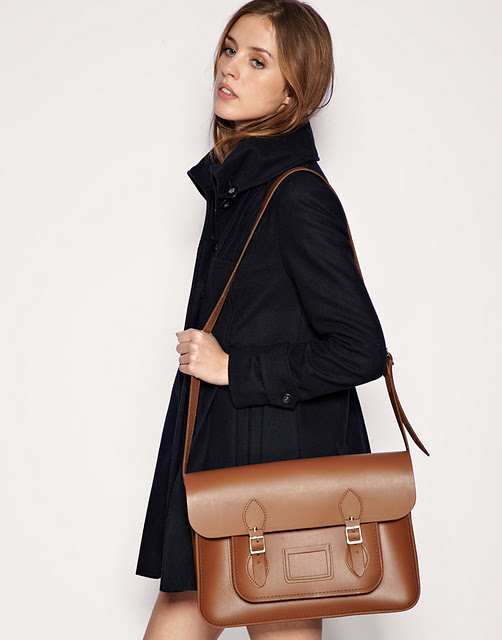 SPOTTED:
On this week's Gossip Girl episode (5x08 All The Pretty Sources), characters Penelope Shafai (Amanda Setton) and Kati Farkas (Nan Zhang) carrying the pink and purple satchels respectively, as they prepare for Blair's baby shower.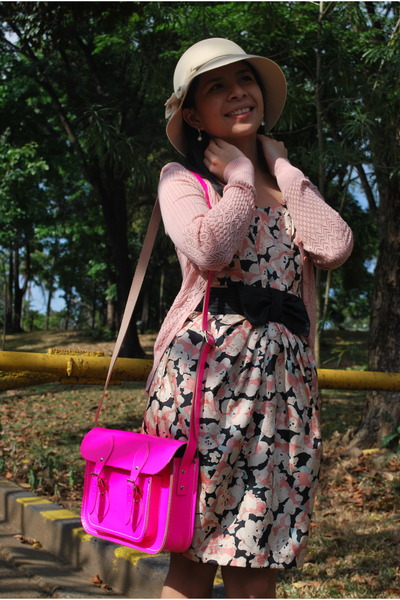 For all you CANADIAN girls out there, you can find these bags at Holt Renfrew (picture taken from their Twitter page)! Yay! Though I don't think they offer the embossing.. but I'm not positive.
Psssst...
This 'mock croc' design above is available at Asos.com at a slightly pricier cost of $210. They also carry a bunch of EXCLUSIVE CSc. bags just for Asos, including a really great "cracked leather" design and...METALLICS!!! Similar to the Comme des Garcons designs, they come in a gorgeous silver or gold shade. While that doesn't float everybody's boat, it certainly floats mine!!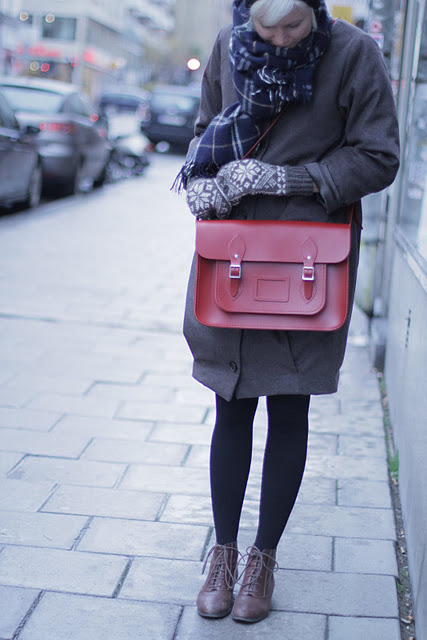 Yay for the satchel! Very excited to be filling my wardrobe with a row of Cambridge Satchel Co. bags in the next year. FUN! =)
You can purchase these bags online and in stores at:
Asos, Club 21, Urban Outfitters etc.etc.
You can also go directly and order from their website, where you can also view stores that carry the bags that may be near you!
Love love love. What do you guys think of these bags? What other colours and designs do you think they should come in?
Looking forward to a very merry Holiday season!
P.S. Just as a reminder, as mentioned on my homepage, if there is a photograph you would like credited or removed feel free to contact me (via my page header) or send me a private message! :) Thanks.